Hexindai Inc.(HX) 首席执行官 Xiaobo An 在 2019年 第四季度业绩 - 收益电话会议记录
Hexindai Inc. (NASDAQ:HX) Q4 2019 Results Earnings Conference Call June 18, 2019 8:00 AM ET
Hexindai Inc.(纳斯达克股票代码:[HX])2019年第四季度业绩收益电话会议2019年6月18日美国东部时间上午8:00
公司参与者
Daisy Wang - Investor Relation
Xiaobo An - Chairman and CEO
Lili Hua - Chief Operating Officer
Johnson Zhang - CFO
Daisy Wang - 投资者关系
Xiaobo An - 董事长兼首席执行官
李丽华 - 首席运营官
Johnson Zhang - 首席财务官
电话会议参与者
Josh Vogel - Sidoti & Company
Josh Vogel - Sidoti&Company
会议主持员
Hello ladies and gentlemen and thank you for standing by for Hexindai's Fourth Quarter and Fiscal Year 2019 Earnings Conference Call. At this time, all participants are in listen-only mode. After management's prepared remarks, there will be a question-and-answer session. As a reminder, today's conference call is being recorded. I would like to turn the meeting over to your host for today's call Miss Daisy Wang, Investor Relations Director. Please proceed, Daisy.
女士们,先生们,您好,感谢您对Hexindai第四季度和2019财年收益电话会议的支持。 此时,所有参与者都处于只听模式。 在管理层准备好的评论之后,将会有一个问答环节。 提醒一下,今天的电话会议正在录制中。 我想把这次会议转交给你的主持人,今天致电投资者关系总监王小姐。 请继续,黛西。
Daisy Wang
Thank you, operator. Hello investors, analysts and colleagues thank you for joining us today. Our earnings release was distributed earlier today and is available on our IR website at ir.hexindai.com.
On the call today from Hexindai are Mr. Xiaobo An, Chairman and CEO, Miss Lili Hua, our Chief Operating Officer and Mr. Johnson Zhang, Chief Financial Officer. Miss Hua will review business operations and company highlights followed by Mr. Zhang, who will discuss financials. They will be available to answer your questions during the Q&A session that follows.
Before we begin, I would like to remind you that this conference call may contain forward-looking statements within the meaning of Section 21E of the Securities Exchange Act of 1934, as amended. These forward-looking statements are made under the Safe Harbor provisions of the U.S. Private Securities Litigation Reform Act of 1995. These statements can be identified by terminology such as will, expects, anticipates, future, intends, plans, believes, estimates, potential, continue, ongoing, targets, guidance and similar statements.
The Company may also make written or oral forward-looking statements in its periodic reports to the U.S. Securities and Exchange Commission, the SEC, in its annual report to shareholders. Press releases and other written materials and oral statements made by its officers, directors or employees to third parties.
Any statements that are not based on historical facts, including statements about the Company's beliefs and expectations, are forward-looking statements that involve factors, risks and uncertainties that could cause actual results to differ materially from those in the forward-looking statements.
Such factors and risks include, but not limited to the following: the Company's goals and strategies, its future business development, financial condition and results of operations, the expected growth of the credit industry, and marketplace lending in particular, in China; the demand for and market acceptance of its marketplace's products and services, its ability to attract and retain borrowers and investors on its marketplace, its relationships with its strategic cooperation partners, competition in its industry, and relevant government policies and regulations relating to the corporate structure, business and industry.
Further information regarding these and other risks, uncertainties or factors is included in the Company's filings with the SEC. All information provided in this call is current as of the date of this call, and the Company does not undertake any obligation to update such information, except as required under law.
With that, I will now turn the call over to our COO, Miss. Lili Hua. Miss Hua will read through her prepared remarks in Chinese. I will translate for her in English. Miss Hua, please go ahead.
谢谢运营商。投资者,分析师和同事们,感谢您今天加入我们。我们的收益发布于今天早些时候发布,可在我们的IR网站ir.hexindai.com上获取。
今天来自Hexindai的电话会议是董事长兼首席执行官Xiaobo An先生,我们的首席运营官Lili Hua女士和首席财务官Johnson Zhang先生。华小姐将审查业务运营和公司亮点,随后张先生将讨论财务问题。他们将在随后的问答环节中回答您的问题。
在开始之前,我想提醒您,本次电话会议可能包含经修订的1934年证券交易法第21E节所界定的前瞻性陈述。这些前瞻性陈述是根据1995年美国私人证券诉讼改革法案的安全港条款制定的。这些陈述可以通过诸如意愿,预期,预期,未来,意图,计划,信念,估计,潜力等术语来识别。继续,持续,目标,指导和类似声明。
公司还可在其向股东提交的年度报告中,在其定期报告中向美国证券交易委员会(SEC)提交书面或口头前瞻性陈述。新闻稿及其官员,董事或员工向第三方提供的其他书面材料和口头陈述。
任何不基于历史事实的陈述,包括有关公司信念和期望的陈述,均属于前瞻性陈述,涉及可能导致实际结果与前瞻性陈述中的实际结果大不相同的因素,风险和不确定性。
这些因素和风险包括但不限于以下内容:公司的目标和战略,未来业务发展,财务状况和经营业绩,信贷行业的预期增长,特别是中国的市场借贷;市场对其市场产品和服务的需求和市场接受度,吸引和留住市场上的借款人和投资者的能力,与战略合作伙伴的关系,行业竞争以及与公司结构相关的相关政府政策和法规,工商业。
有关这些及其他风险,不确定性或因素的进一步信息包含在公司向美国证券交易委员会提交的文件中。本次电话会议中提供的所有信息均为本次电话会议之日的最新信息,除法律要求外,公司不承担更新此类信息的义务。
有了这个,我现在将电话转给我们的首席运营官,Lili Hua小姐。华小姐将用中文朗读她准备好的言论。我会用英语翻译她。华小姐,请继续。
莉莉华
[Foreign Language]
The market environment continues to gradually improve as investor confidence returns, while the entire sector continues to face the liquidity crunch as smaller and weaker platforms dropped out of the market. We believe the worst is behind us. Our outlook has remarkably improved this quarter from the lows of the past three quarters, especially on a sequential basis.
[Foreign Language]
Total loans facilitated doubled sequentially to US$61.7 million during the quarter as the net revenue which increased to US$4.1 million. While our top line continues to be impacted by market turbulence, it is improving our cost structure and bottom line as we return our focus to new loan products as the markets reduce.
Gross billing amounts net of VAT more than tripled sequentially to US$9 million with net income coming in US$2.8 million. The number of investors who invested for the first time on a marketplace during the quarter increased by 39% compared to last quarter.
[Foreign Language]
More importantly, our M3+Net Charge-Off Rates remained low and steady at 6% with most of the loans facilitated doing through our platform carrying a three year term, we hit our fourth anniversary of sorts with auto loans facilitated during the first vintage expiring this quarter.
Our low default rate which was below the industry average reflects just how effective our cutting-edge risk management systems are.
[Foreign Language]
We continue to strengthen our individual investor day while diversifying our funding sources with the addition of financial institutions and Trust partners such as Bohai International Trust, Kunming Aotou and Phoenix Intelligent Credit Group, a wholly owned subsidiary of Phoenix Financial Group. This will help us develop additional growth drivers going forward.
Our partnership with Phoenix Financial P2P platform has progressed well, growing our strategic investment last quarter. We expect total loan volumes for borrowers referred by us over the three-year partnership to be about RMB10 billion.
Our partnership with Bohai International Trust and Kunming Aotou is also beginning to bear fruit. Bohai International will extend loans in the aggregate principal amount of RMB300 million to borrowers referred by Hexindai in the initial term of five years and it has already extended RMB130,000 [ph] during this quarter.
Kunming Aotou have extended growth in the aggregate principal amount of RMB30 million through a Trust fund through borrowers accessed and referred by Hexindai during this quarter. Our partnership with Kunming Aotou is successfully fulfilled. We will continue to develop partnership with other financial institutions, which will help greatly [ph] extend and diversify our funding sources.
[Foreign Language]
In addition to our core medium-sized credit loan business, we launched an online microfinancing loan business in January 2019 to further diversify our revenue stream. Microfinancing loans are small and short term credit loans that typically mature into 12 months with amounts that range from RMB1,500 to RMB20,000.
[外语]
随着投资者信心恢复,市场环境继续逐步改善,而整个行业继续面临流动性紧缩,因为较小且较弱的平台退出市场。我们相信最坏的情况已经过去了。本季度我们的前景从过去三个季度的低点开始显着改善,特别是在连续的基础上。
[外语]
由于净收入增加至410万美元,本季度贷款总额增加了一倍,达到6170万美元。虽然我们的收入仍然受到市场动荡的影响,但随着市场的减少,我们将注意力转向新的贷款产品,从而改善了我们的成本结构和利润。
扣除增值税的总账单金额增加了两倍多,达到900万美元,净收入为280万美元。与上一季度相比,本季度首次在市场上投资的投资者数量增加了39%。
[外语]
更重要的是,我们的M3 净收费率保持在低位且稳定在6%,大部分贷款通过我们的平台进行为期三年,我们在第一批葡萄酒到期期间推出了汽车贷款四周年本季度。
我们的低违约率低于行业平均水平反映了我们的尖端风险管理系统的有效性。
[外语]
我们通过增加金融机构和信托合作伙伴,如渤海国际信托,昆明澳投和凤凰金融集团的全资子公司凤凰智能信贷集团,继续加强个人投资者日,同时实现资金来源多元化。这将有助于我们开发更多的增长动力。
我们与凤凰金融P2P平台的合作进展顺利,上个季度我们的战略投资不断增长。我们预计,我们就三年合伙企业转介的借款人的贷款总额约为人民币100亿元。
我们与渤海国际信托和昆明奥头的合作关系也开始见效。渤海国际将在本期五年内向Hexindai转介的借款人提供本金总额为人民币3亿元的贷款,并已延长人民币130,000 [ph]。
昆明奥通通过信托基金通过本季度访问和转介的Hexindai借款人,扩大了本金总额人民币3,000万元的增长。我们与昆明奥头的合作关系顺利完成。我们将继续与其他金融机构建立伙伴关系,这将极大地扩大我们的资金来源并使其多样化。
[外语]
除了我们的核心中型信贷业务外,我们于2019年1月推出了在线小额贷款业务,以进一步丰富我们的收入来源。小额贷款是小额和短期信贷,通常成熟为12个月,金额从人民币1,500元到人民币20,000元不等。
Leverage and modified version of the automated cutting-edge private assessment system which is poised [ph] for our medium-size credit loans to access borrowers for a microfinancing loan.
[Foreign Language]
Microfinancing business forms a critical part of our strategy to diversify revenue streams and drive future growth by expanding our offerings vertically. This strategy allows us to offer borrowers and investors a more comprehensive portfolio of products that will cover more assessments and demographics.
[Foreign Language]
As we believe the impact of the challenging market environment begins to fade, we are very confident in our capability and are optimistic about the future of the industry. Having made more progress in the regulatory compliance review process as the Beijing Local Financial Supervision and Administration, formerly known as the Beijing Municipal Bureau of Financial Work concluded its field inspection work of the company. We are now awaiting further notice and equally looking forward to beginning the registration process, which we confident will strengthen investor confidence in the -- in our platform once again.
While there is still some uncertainty over the time-table of the registration, we have a solid fund in place to focus on growing our business and strengthen our diverse revenue streams, regardless of how long we must wait before notice is given.
Once the registration process is complete, we will finally be closing in on a clear and definitive regulatory environment that will benefit everyone and support renewed investor confidence.
[Foreign Language]
With a comprehensive strategy in place and market sentiments gradually getting better, we expect to see low borrower loan volume and revenue improve throughout the rest of this year. I am confident that we are well positioned to take advantage of market opportunities as the industry consolidates leveraging our strong financial resources and operational capabilities as well as experienced management team.
With that, I will now turn the call over to Johnson who will review the financials. Please go ahead, Johnson.
自动化尖端私人评估系统的杠杆和修改版本,为我们的中型信贷贷款准备[ph],以获得借款人的小额贷款。
[外语]
小额融资业务是我们通过垂直扩展产品来实现收入流多元化和推动未来增长的战略的重要组成部分。这一策略使我们能够为借款人和投资者提供更全面的产品组合,以涵盖更多的评估和人口统计数据。
[外语]
我们相信充满挑战的市场环境的影响开始消退,我们对我们的能力充满信心,并对行业的未来充满信心。北京市地方金融监督管理局(原北京市金融工作局)完成了公司的现场检查工作,在监管合规审查过程中取得了较大进展。我们现在正在等待进一步的通知,同样期待着开始注册过程,我们有信心将再次加强投资者对我们平台的信心。
虽然注册时间表仍然存在一些不确定性,但我们有一个坚实的基金,专注于发展我们的业务并加强我们多元化的收入来源,无论我们必须等多久才能发出通知。
一旦注册过程完成,我们将最终关闭一个明确,明确的监管环境,使每个人受益,并支持新的投资者信心。
[外语]
随着全面的战略和市场情绪逐渐好转,我们预计今年剩余时间内借款人贷款额将会减少,收入也会有所改善。我相信,随着行业整合利用我们强大的财务资源和运营能力以及经验丰富的管理团队,我们已准备好利用市场机会。
有了这个,我现在将把这个电话转给约翰逊,后者将审查财务状况。请继续,约翰逊。
约翰逊张
Thank you, Miss Hua. Hello, everyone and thank you for attending [ph] our earnings conference call today. I'll now review our financial performance during the quarter.
Further details can be found in the earnings release in the company's presentation. During the fourth quarter of fiscal year 2019, net revenue was US$4.1 million a decrease of 85% from the same period of last year. The decrease was primarily due to significant decrease in the volume of credit loans facilitated through our marketplace, which decreased to US$61.7 million or RMB416.3 million from US$418.4 million or RMB2.7 billion during the same quarter last year.
On a sequential basis our performance is certainly improving as the market recovers and investor interest returns, with net revenue increasing by 117% [ph]. Operating cost and expenses was US$6.5 million, a decrease of 21.6% from the same period last year. The decrease was primarily due to decrease in sales and marketing expenses and service and development expenses. Operating costs and expenses decreased 29.8% sequentially.
Sales and marketing expenses for US$1.7 million, a decrease of 15.5% from the same period last year, due partly to a decrease in advertising expenses associated with acquiring more customers.
Service and development expenses were US$1.6 million, a decrease of 21.7% from the same period last year, primarily due to a decrease in custodian bank account management fees.
Net income was US$2.8 million compared to net income of US$17 million during same period of last year. Net income attributable to company's shareholder was US$2.8 million compared to a net income attributable to company's shareholder of US$17 million in the same period of fiscal year 2018.
Accordingly, basic EPS was US$0.06 compared to basic EPS of US$0.36 in the same period of fiscal year 2018. Diluted EPS was US$0.05, compared to diluted EPS of US$0.32 in the same period of fiscal year 2018.
Adjusted net income attributable to Company's shareholders which excludes share-based compensation expenses was US$3.9 million compared to an adjusted net income of US$18.2 million during the same period last year.
I will now go over our full fiscal year 2019 results. During the fiscal year ended March 31, 2019 net revenue was US$61.3 million, a decrease of 42.8% from US$107.3 million in the last fiscal year, the decrease was mainly driven by the decrease in the loan volume, which decrease from RMB8.3 billion or US$1.2 billion in the fiscal year 2018 to RMB3.8 billion to US$564.9 million in the fiscal year 2019.
Net income decrease by 91.6% to US$5.5 million from US$65.5 million last fiscal year, the basic ESP decreased to US$0.11 in fiscal year 2019 from US$1.46 in fiscal year 2019 – sorry, from US$1.46 in the last fiscal year, and diluted EPS decrease from US$0.1 in fiscal year 2019 from US$1.37 in fiscal year 2018.
We maintained a strong cash position. As of March 31, 2019 our cash position stood at US$57.4 million during the fiscal year end March 31, 2019. Net cash used in operating activities was US$1.7 million, net cash used in investing activities was US$68.1 million and net cash used in financing activity was US$0.03 million.
谢谢你,华小姐。各位大家好,感谢您今天参加我们的财报电话会议。我现在将审查本季度的财务业绩。
更多详细信息可以在公司演示文稿的收益发布中找到。在2019财年第四季度,净收入为410万美元,比去年同期减少了85%。减少的主要原因是我们的市场推动信贷额度大幅减少,去年同一季度由4.184亿美元或人民币27亿元减少至6170万美元或人民币4.163亿元。
随着市场复苏和投资者利益回报,我们的业绩肯定会有所改善,净收入增加了117%[ph]。营业成本和费用为650万美元,比去年同期减少21.6%。减少主要是由于销售和营销费用以及服务和开发费用的减少。营业成本和费用比上一季度下降29.8%。
销售和营销费用为170万美元,比去年同期减少15.5%,部分原因是与收购更多客户相关的广告费用减少。
服务和开发费用为160万美元,比去年同期减少21.7%,主要原因是托管银行账户管理费减少。
净收入为280万美元,而去年同期净收入为1,700万美元。归属于公司股东的净利润为280万美元,而公司股东应占的净收入为2018财年同期的1,700万美元。
因此,基本每股盈利为0.06美元,而2018财年同期基本每股盈利为0.36美元。摊薄后每股盈利为0.05美元,而2018财年同期摊薄每股盈利为0.32美元。
不包括股权奖励支出的调整后公司股东应占净收入为390万美元,而去年同期的调整后净收入为1820万美元。
我现在将讨论2019年的整个财政年度业绩。在截至3月31日的财政年度中,2019年净收入为6130万美元,比上一财年的1.073亿美元减少了42.8%,主要是由于贷款额减少,人民币8.3元下降所致。 2018财年将达到人民币38亿元,达到5.649亿美元,在2018财年达到12亿或12亿美元。
净收入从上一财年的6550万美元下降91.6%至550万美元,基本ESP从2019财年的1.46美元降至2019财年的0.11美元 - 对不起,上一财年的1.46美元,并且稀释每股盈利从2018财年的1.37美元下降至2019财年的0.1美元。
我们保持了强劲的现金状况。截至2019年3月31日,截至2019年3月31日的财政年度,我们的现金头寸为5740万美元。经营活动所用现金净额为170万美元,投资活动所用现金净额为6810万美元,净现金用于融资活动为0.03百万美元。
We announced US$25 million share repurchase program on December 10 [ph], 2018. This repurchase program highlights our commitment to maximizing shareholders value and demonstrates our confidence and opting optimism in our future business prospects.
As of March 31, 2018 the company repurchased aggregate of approximately 431,000 ADS at an average price of approximately US$3.1 per ADS, while total amount of approximately US$1.3 million.
As of to-date, company has repurchased an aggregate of 1.2 million ADS at an average approximately US$3.4 per ADS for total amount of US$4.0 million. Market sentiment is improving. We continue to experience volatility in our business operations as a result of ongoing regulatory campaign.
As Ms. Hua mentioned, we believe the worst is behind us as the market environment continues to gradually improve and investor confidence returns. So to build a sustainable cash flow for future growth, we are putting our efforts on expanding our funding profit for institutional investors and funding partners and diversifying our revenue stream with addition of our microfinancing business.
Our strong business fundamentals, experienced management team and income [ph] from operations give us confident that we are on the right track. This concludes our prepared remarks.
I'd now like to turn the call back over to the operator to begin the Q&A session. Operator?
我们在2018年12月10日宣布了2500万美元的股票回购计划。这一回购计划突显了我们对最大化股东价值的承诺,并展示了我们对未来业务前景的信心和乐观态度。
截至2018年3月31日,该公司以每股ADS平均约3.1美元的价格回购了大约431,000股ADS,总金额约为130万美元。
截至目前,公司已回购总计120万美元的ADS,平均每ADS约3.4美元,总金额为400万美元。市场情绪正在改善。由于持续的监管活动,我们的业务运营仍然存在波动。
正如华女士所说,我们认为最糟糕的情况已经过去,因为市场环境继续逐步改善,投资者信心恢复。因此,为了为未来增长建立可持续的现金流,我们正在努力扩大机构投资者和融资合作伙伴的融资利润,并通过增加小额融资业务实现收入来源多元化。
我们强大的业务基础,经验丰富的管理团队和运营收入使我们对自己走在正确的轨道上充满信心。以上是我们准备的评论。
我现在想把这个电话转回给接线员开始问答环节。操作?
问答环节
Yes, sir. [Operator Instructions] Your first question comes from the line of Josh Vogel from Sidoti & Company. Please ask your questions.
是的先生。 [操作员说明]您的第一个问题来自Sidoti&Company的Josh Vogel。 请问你的问题。
Josh Vogel
Thank you. Hello everyone. I have four questions please. The first one is you have done a very good job managing costs in the past two quarters especially throughout an unstable market environment. I am curious that when business begins to build back to historical levels is it fair to assume we should expect to see sales and marketing expense claim first as you begin to advertise like we have promotional campaigns. And on the other side of that, is there additional leverage to mitigate costs in other areas?
谢谢。 大家好。 我有四个问题。 第一个是你在过去两个季度里做得非常好,特别是在不稳定的市场环境中。 我很好奇当业务开始重建到历史水平时,可以假设我们应该首先看到销售和营销费用在您开始做广告时就像我们有促销活动一样。 另一方面,还有额外的杠杆作用来降低其他领域的成本吗?
约翰逊张
Thank you, Josh. As I mentioned that our expenses and costs have already decreased during our [Indiscernible] decreased simultaneously. And our seamless recoveries, we are confident that our cost will be increased lower [ph] than our business volume increased and we still some space to leveraging with our operating.
谢谢,乔希。 正如我所提到的,我们的[Indiscernible]期间的费用和成本已经降低了。 我们的无缝回收率,我们相信我们的成本将比我们的业务量增加更低[ph],我们仍有一些空间可以利用我们的运营。
Josh Vogel
Okay. Thank you. Looking at the microfinancing business today, can you discuss please what the average client profile looks like versus the traditional lending operations? And I know we are only a few months into you providing this service, but I'm curious when you look at the delinquency and charge-off rates are they typically higher for this type of loan or lower or the same? Thank you.
好的。 谢谢。 看看今天的小额信贷业务,您能否与传统的贷款业务讨论一下平均客户档案的情况? 而且我知道我们只有几个月的时间才能提供这项服务,但是我很好奇当你看到这种类型的贷款或更低或相同的拖欠和撇帐率通常更高? 谢谢。
约翰逊张
The typical demographic of microfinancing is younger generation comparing with our traditional medium size loans. And we are generating our strong fiscal management system and our good relationship with credit data providers in the market. We have confident to maintain delinquency rate at a considerable level. Because of the – we just started this kind of business, we still have a lot adequate statistic data of growth [ph] regarding to the new business delinquency rate and that can operate in the future.
与我们传统的中等规模贷款相比,典型的小额信贷人口是年轻一代。 我们正在建立强大的财务管理系统以及与市场中信用数据提供商的良好关系。 我们有信心将拖欠率维持在相当高的水平。 由于 - 我们刚刚开始这种业务,我们仍然有很多关于新业务拖欠率的增长[ph]的统计数据,并且可以在未来运作。
Josh Vogel
Thank you. You've done a very impressive job increasing the gross billing ratio in the quarter. Can you please discuss the economics behind this improvement when we look at channel fees premiums to the finance guarantee companies, facilitation service fees? And I'm curious whether this is a new level that you think you can maintain?
谢谢。 你在本季度提高了总计费率方面做得非常出色。 当我们查看融资担保公司的渠道费溢价,便利服务费时,您能否讨论一下这种改进背后的经济因素? 我很好奇这是否是您认为可以保持的新水平?
约翰逊张
Our gross billing ratio increased sequentially comparing to the last quarter -- in the quarter before last quarter we have done a lot of cash incentive to promote to our lender. But for the last quarter, I wonder more lenders have recovered their confident who invest our platform, in that way bill rate to the lender go back to the normal level. Our gross billing ratio go back to the normal level and we believe that this kind of gross billing ratio will continue in the new fiscal year.
我们的总计费比率与上一季度相比有所增加 - 在上一季度之前的一个季度,我们已经做了很多现金激励,以促进我们的贷方。 但是对于上一季度,我想更多的贷款人已经恢复了他们投资我们平台的信心,这样一来,贷款人的账单利率又恢复到正常水平。 我们的总结算比率可以恢复到正常水平,我们相信这种总结算比率将在新的财政年度继续保持。
Josh Vogel
Thank you. And last one please. I understand you were not providing any detailed guidance, but if you could share any directional comments for the first quarter and fiscal 2020 with regard to total loans facilitated in net revenue that would be helpful? Thank you.
谢谢。 请最后一个。 我知道您没有提供任何详细的指导,但是如果您可以分享第一季度和2020财年的任何方向性评论,那么在净收入促进的总贷款方面会有所帮助吗? 谢谢。
约翰逊张
The market segment is improving and we believe that the business and if you may have some volatility during the ongoing regulatory campaign. With this mind, we will temporarily suspend referring guidance starting this quarter. But internally we have our own quota of targeting them. Generally speaking, we have a good performance in the fiscal year 2018 and by the end of March 31, 2018, our internal target is our full volume and revenue is recover to the same level to the fiscal year 2018. But it is our internal target that can offer guidance to the capital market. Thank you.
市场细分正在改善,我们相信业务,如果您在持续的监管活动中可能会有一些波动。 有了这个想法,我们将暂时停止本季度开始的推荐指导。 但在内部我们有自己的目标定位。 总的来说,我们在2018财年表现良好,到2018年3月31日,我们的内部目标是我们的全部交易量,收入恢复到2018财年的水平。但这是我们的内部目标 这可以为资本市场提供指导。 谢谢。
Josh Vogel
Yes. Thank you very much for taking my questions.
是。 非常感谢您提出我的问题。
约翰逊张
Thank you, Josh.
谢谢,乔希。
会议主持员
[Operator Instructions] We have a follow-up question from the line of Josh Vogel from Sidoti & Company. Please ask your question.
[操作员说明]我们有来自Sidoti&Company的Josh Vogel的后续问题。 请问你的问题。
Josh Vogel
Thank you. One more question if I may. With the -- as the U.S. and China continue to go back and forth in tariff negotiations, do you think that this ultimately becomes a tailwind or a headwind for lending activity?
谢谢。 还有一个问题,如果可以的话。 随着美国和中国继续在关税谈判中来回徘徊,你认为这最终成为贷款活动的顺风还是逆风?
约翰逊张
We have no comments to the micro economic. And we have our commitment to the shareholder is to do good in our own business and operating well to our business than the regulatory in our segment.
我们对微观经济没有评论。 我们对股东的承诺是在我们自己的业务中做得好,并且比我们的监管部门更好地运营我们的业务。
Josh Vogel
Okay. I understand. Thank you again for taking my questions.
好的。 我明白。 再次感谢您提出我的问题。
约翰逊张
Thank you.
谢谢。
会议主持员
[Operator Instructions] There are no further questions at this time. I would like to hand the conference back to today's presenters. Please continue.
[操作员说明]目前没有其他问题。 我想把会议交回今天的主持人。 请继续。
Daisy Wang
Well, thank you, operator. In closing, on behalf of the entire Hexindai management team, we'd like to thank you for your interest and participation in today's call. If you require any further information or have any interest in visiting us in China, please let us know. Thank you for joining us today. This concludes the call.
好的,谢谢运营商。 最后,我们代表整个Hexindai管理团队,感谢您对今天电话的兴趣和参与。 如果您需要任何进一步的信息或有兴趣在中国访问我们,请告诉我们。 感谢您今天加入我们。 电话结束了。
会议主持员
Ladies and gentlemen, that does conclude the conference for today. Thank you for participating. You may all disconnect.
女士们,先生们,今天的会议结束了。 感谢您的参与。 你可能都断开了。
相关问题
互联网券商的港股、美股开户教程
如果您对美股 或者 港股也感兴趣, 或者想要了解如何开户, 可以加我wechat: xiaobei006006, 同时也可以拉您进美股交流群哦。
最后的最后 祝大家都有一个美好的投资生活哦。
大家也可以关注【美股指南】公众号, 即可获得《小白投资美股指南(雪球「岛」系列)》电子书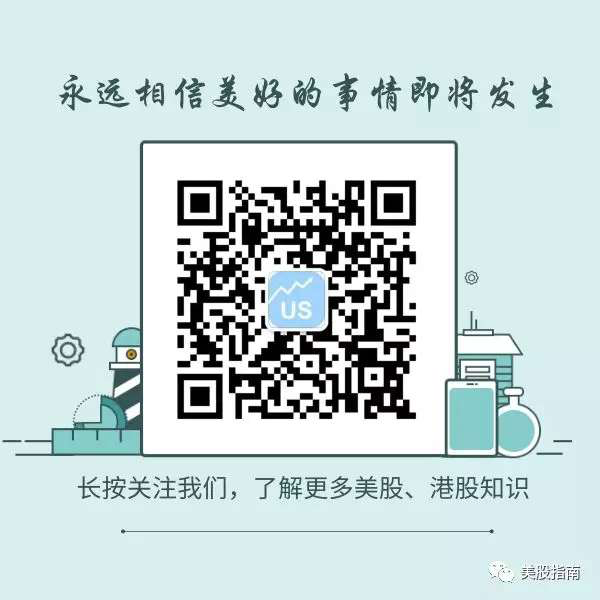 ---
写在最后
---
暂无回复。