Cherokee Inc.(CHKE) 首席执行官 Henry Stupp 在 2020年 第一季度业绩 - 收益电话会议记录
Cherokee Inc. (NASDAQ:CHKE) Q1 2020 Earnings Conference Call June 18, 2019 4:30 PM ET
Cherokee Inc.(纳斯达克股票代码:[CHKE])2020年第一季度收益电话会议2019年6月18日美国东部时间下午4:30
公司参与者
Kimberly Esterkin - Director, Investor Relations
Henry Stupp - Chief Executive Officer
Steve Brink - Chief Financial Officer
Kimberly Esterkin - 投资者关系总监
Henry Stupp - 首席执行官
Steve Brink - 首席财务官
电话会议参与者
Eric Beder - SCC Research
会议主持员
Greetings, and welcome to the Cherokee Global Brands First Quarter 2020 Earnings Conference Call. At this time, all participants are in a listen-only mode. [Operator Instructions] As a reminder, this conference is being recorded.
I would now like to turn the conference over to your host, Kimberly Esterkin, Director, Investor Relations.
问候,并欢迎切诺基全球品牌2020年第一季度收益电话会议。 此时,所有参与者都处于只听模式。 [操作员说明]提醒一下,此会议正在录制中。
我现在想把会议转交给主持人,投资者关系部主任Kimberly Esterkin。
金佰利Esterkin
Thank you, and good afternoon. Speaking today will be the company's Chief Executive Officer, Henry Stupp; and Chief Financial Officer, Steve Brink. Before I hand the call over to management, please note that on this call, certain information presented contains forward-looking statements.
Forward-looking statements are neither a prediction nor a guarantee of future events or circumstances, and are based on currently available market, operating, financial, and competitive information and assumptions. Our actual results could differ in a material manner from those expressed in such forward-looking statements for any reason, including those listed in the company's SEC filings. The company assumes no obligation to update any such forward-looking statements. Please also note that past performance is not a guarantee of future results.
Further, this conference call includes a discussion of non-GAAP financial measures as the term is defined in Regulation-G. The most directly comparable GAAP financial measures and information reconciling these non-GAAP financial measures to the company's financial results prepared in accordance with GAAP are included in the earnings release, which is posted on the company's website at cherokeeglobalbrands.com.
And with that, I'll hand the call over to Cherokee Global Brands Chief Executive Officer, Henry Stupp.
谢谢,下午好。今天发言的将是该公司的首席执行官Henry Stupp;和首席财务官Steve Brink。在我将电话交给管理层之前,请注意,在此电话会议中,所提供的某些信息包含前瞻性陈述。
前瞻性陈述既不是预测也不是未来事件或情况的保证,而是基于当前可用的市场,运营,财务和竞争信息和假设。我们的实际结果可能与这些前瞻性陈述中出于任何理由(包括公司美国证券交易委员会文件中列出的那些)的重大方式有所不同。公司没有义务更新任何此类前瞻性陈述。另请注意,过去的表现并不能保证未来的结果。
此外,本次电话会议还包括对非GAAP财务指标的讨论,因为该术语在G条例中有定义。最直接可比的GAAP财务指标和信息,将这些非GAAP财务指标与根据GAAP准备的公司财务结果进行对账,均包含在收益发布中,该指标发布在公司网站cherokeeglobalbrands.com上。
有了这个,我将把这个电话交给切诺基全球品牌首席执行官Henry Stupp。
Henry Stupp
Thank you, Kim, and good afternoon everyone. We appreciate your support on today's earnings call. As we complete the first quarter fiscal year 2020 and enter into the second, we remain focused on delivering on our pledge to think like a retailer and connect with consumers.
Even as retailers' strategies diverse significantly from the past in order to establish new and diversified revenue streams, our ability to diversify our portfolio across geographies, customers, categories, and consumer touch points along with our focus on driving profitable growth led to a 14% improvement in adjusted EBITDA, and a 12% decline in SG&A year-over-year.
While our bottom-line performance continues to improve due to cost saving measures, our royalty revenue for the quarter was somewhat later than anticipated taking into effect non renewed or expired licenses and the divestiture of Flip Flop Shops. With that said, we've decided to adjust our guidance for the fiscal year.
Although, we now have stronger control of our expenditures and profitability than ever before, macro forces namely the threat of tariffs and Brexit have resulted in lower top line growth. We think it prudent, therefore, to revise our guidance at this time and are lowering our revenue and EBITDA estimates for the fiscal year. Steve will get into the specifics later in the call.
Despite these market conditions, from an operational standpoint, Cherokee Global Brands continues to benefit from the combination of our portfolio of high equity brands and our platform of capabilities that leverages our design services model into new revenue streams. Our unique 360-degree platform positions us as a full-service resource for each of our retail and wholesale licensees.
In addition, our recent shift from a direct-to-retail licensing model to one that encompasses wholesale and retail licensing partnerships enables us to grow our own brands and create and develop brands and products for others. We've recently introduced these new revenue streams and we are in advanced discussions to expand our design service relationships into numerous markets with the leading retailers.
From a strategic perspective, as we continue to grow and enhance Cherokee Global Brands for future success, we have begun to add new skill sets to our Board of Directors. In the beginning of May, we announced the appointment of Patti Johnson as Chair of our Audit Committee. Patti's prior experience managing the financial and accounting operations for large global retail operations, such as Charlotte Russe and Old Navy has proven to be a strong addition to our team in her short tenure on our Board.
Then, just last week, we were thrilled to announce the appointment of current Director, Evan Hengel, as Chairman of the Board. Evan has been a member of Cherokee's Board of Directors since October 2018 and his extensive business and financial experience, including M&A and restructuring in the apparel and consumer industries has and will continue to significantly contribute to our Board.
谢谢金,大家下午好。感谢您对今天的财报电话的支持。当我们完成2020财年第一季度并进入第二季度时,我们仍然专注于履行我们的承诺,即像零售商一样思考并与消费者建立联系。
尽管零售商的战略与过去有很大不同,以建立新的多元化收入来源,但我们在地理位置,客户,类别和消费者接触点实现投资组合多样化的能力以及我们专注于推动盈利增长的能力导致14%调整后的EBITDA有所改善,SG&A同比下降12%。
虽然我们的底线业绩由于节省成本措施而持续改善,但本季度的特许权使用费收入比预期的更新或过期的许可证以及Flip Flop Shops的剥离要晚一些。话虽如此,我们决定调整我们对本财年的指导。
尽管如此,我们现在对支出和盈利能力的控制力度比以往任何时候都要大,但宏观力量即关税和英国退欧的威胁导致收入增长率下降。因此,我们认为在此时修改我们的指引并谨慎降低本财年的收入和EBITDA估计值。史蒂夫将在电话会议后期详细介绍。
尽管存在这些市场条件,但从运营角度来看,切诺基全球品牌继续受益于我们的高股权品牌组合和我们的能力平台,这些能力将我们的设计服务模式融入新的收入来源。我们独特的360度平台使我们成为每个零售和批发许可证持有者的全方位服务资源。
此外,我们最近从直接零售许可模式转变为包含批发和零售许可合作伙伴关系的模式,这使我们能够发展自己的品牌,为他人创造和开发品牌和产品。我们最近推出了这些新的收入来源,我们正在进行深入讨论,以便与领先的零售商将我们的设计服务关系扩展到众多市场。
从战略角度来看,随着我们不断发展和提升切诺基全球品牌未来的成功,我们已开始为董事会增加新技能。 5月初,我们宣布任命Patti Johnson为审计委员会主席。 Patti在管理大型全球零售业务(如Charlotte Russe和Old Navy)的财务和会计业务方面的经验证明,在我们董事会的短期任期内,我们团队是一个强有力的补充。
然后,就在上周,我们很高兴地宣布任命现任董事Evan Hengel为董事会主席。 Evan自2018年10月以来一直是切诺基董事会成员,他在服装和消费行业的并购和重组方面拥有丰富的业务和财务经验,并将继续为我们的董事会做出重大贡献。
And last but certainly not least, from marketing and branding perspective, as I mentioned last quarter, at the end of June, we are excited to reconfirm that Cherokee Global Brands will officially be re-branded as Apex Global Brands. Towards the end of June, Apex Global Brands will begin trading on NASDAQ under the ticker symbol, APEX, A-P-E-X.
At that time, we shall transition from Cherokee Global Brands to Apex Global Brands, both in name and ticker symbol, as we mark the expansion of our brand portfolio from a mono-branded company to a house of high equity lifestyle brands, and we leverage our platform synergies and position ourselves as a true thought leader in the global expansion of our brands and services.
Leveraging the unique Apex platform, our own brands will be able to grow into new categories and markets without limitation. At the same time, our retail partners and licensees will be able to expand their global reach and relevance, as our retail licensee partners are now collaborating to market a vastly expanded assortment of products.
We believe that our shareholders will witness the transformation of our company into a streamlined organization that can leverage our current and future brands distinct strengths to reach new levels of profitability.
We believe we are heading in the right direction, cutting costs to improve shareholder returns, appointing key individuals to strengthen our strategic direction and rebranding to reflect the changing world of retail. We are now better positioned to deepen our relationships with retailers and to help our partners deliver more product and introduce new categories faster than ever before. I am optimistic about our future and look forward to continuing to sharing our progress.
Before discussing our brands further, I'd like to hand the call over to Steve Brink, our CFO, to review the first quarter 2020 results and updated financial guidance. Steve?
最后但同样重要的是,从营销和品牌推广的角度来看,正如我在上个季度提到的,在6月底,我们很高兴再次确认切诺基全球品牌将正式重新命名为Apex全球品牌。到6月底,Apex Global Brands将开始在纳斯达克交易,股票代码为APEX,A-P-E-X。
那时,我们将从切诺基全球品牌转向Apex全球品牌,无论是名称还是股票代码,我们都将品牌组合从单一品牌公司扩展到高品位生活方式品牌之家,并且我们利用我们的平台协同作用,并将自己定位为我们品牌和服务全球扩张的真正思想领袖。
利用独特的Apex平台,我们自己的品牌将能够无限制地发展到新的类别和市场。与此同时,我们的零售合作伙伴和许可证持有者将能够扩大其全球影响力和相关性,因为我们的零售许可证合作伙伴现在正在合作推广大量扩展的产品。
我们相信,我们的股东将见证我们公司转变为精简的组织,可以利用我们当前和未来的品牌独特的优势,以达到新的盈利水平。
我们相信我们正在朝着正确的方向前进,削减成本以提高股东回报,任命关键人物以加强我们的战略方向和品牌重塑以反映不断变化的零售世界。我们现在能够更好地加深与零售商的关系,并帮助我们的合作伙伴提供更多产品,并以前所未有的速度推出新类别。我对未来感到乐观,并期待继续分享我们的进步。
在进一步讨论我们的品牌之前,我想把这个电话交给我们的首席财务官Steve Brink来审核2020年第一季度的业绩并更新财务指导。史蒂夫?
Steve Brink
Thanks, Henry. And good afternoon, everyone. Revenues for our first quarter were $5.1 million, compared to $5.4 million in the prior year's first quarter. This 6% decrease is primarily due to the expiration of the Cherokee brand license in South Africa, as well as our divestiture of our Flip Flop Shops franchise business in June 2018. In Q1 last year, we had approximately $800,000 of revenue overall from non-renewed licenses in the Flip Flop Shops business that we sold. Excluding these items, our organic revenue growth was 9% for the quarter.
As Henry noted, first quarter product sales of our licensees in Europe were hampered by the economic uncertainty surrounding Brexit. We think this trend may continue in the future quarters. People are also concerned about the impact of potential higher tariffs on apparel and footwear if the United States enacts the announced 25% tariff on goods produced in China, commonly known as Tranche IV.
We believe our licensees are being proactive to reduce their exposure to higher tariffs by moving production to countries that aren't exposed to these tariffs and by negotiating lower costs with existing suppliers. However, it's possible that if these tariffs are enacted, prices may increase in our branded products being sold in United States. In turn, this could result in lower retail sales and lower royalty revenue to us.
Now, back to our results for the quarter. The overall decline in royalty revenue in the first quarter was partially offset by revenue from our new design services agreement in China. This agreement continues to demonstrate the value of our product development capabilities. Also, on a positive note, we continue to see the beneficial effects of our restructuring efforts in our operating expenses this quarter. On a year-over-year basis, our ongoing SG&A expenses were down 12% in the first quarter, while our adjusted EBITDA increased 14%.
Total interest expense for the quarter was $2.2 million, compared to $1.7 million in the prior year. This increase was primarily due to our increased debt level, along with higher non-cash interest charges related to our new term loan. Again, this is not all cash interest. Our interest expense includes $1.6 million of cash interest, plus $600,000 of non-cash charges for the amortization of deferred financing costs.
Our income tax expense also includes non-cash components. We generated net operating losses in the quarter in both the United States and Europe and we're not recognizing the benefits of these NOLs in our income statement because of previously established valuation allowances. The result is that we have non-cash tax expense reflected in our income statement, which totaled $300,000 for the quarter. Cash taxes were also $300,000 for the quarter.
Our operating profit for the quarter was $600,000 compared to an operating loss of $200,000 in the first quarter of the prior year. Excluding the one -time and non-cash items, our adjusted EBITDA was $1.2 million for the quarter, a 14% increase from $1.0 million in the first quarter of fiscal 2019. This improvement was driven primarily by lower SG&A combined with the organic growth of our ongoing licensees.
谢谢,亨利。大家下午好。第一季度的收入为510万美元,而去年第一季度为540万美元。这6%的减少主要是由于南非切诺基品牌许可证的到期,以及我们于2018年6月剥离了我们的Flip Flop Shops特许经营业务。去年第一季度,我们总共获得了约80万美元的收入。我们销售的Flip Flop Shops业务续签了许可证。不计这些项目,本季度我们的有机收入增长率为9%。
正如亨利指出的那样,我们在欧洲的被许可人的第一季度产品销售因英国退欧的经济不确定性而受到阻碍。我们认为这种趋势可能在未来几个季度继续。如果美国对中国生产的商品(通常称为第四批)征收25%的关税,人们也会担心潜在的高关税对服装和鞋类的影响。
我们认为,我们的被许可人正在积极主动地通过将生产转移到没有接受这些关税的国家并通过与现有供应商协商降低成本来降低其提高关税的风险。但是,如果这些关税颁布,我们在美国销售的品牌产品的价格可能会上涨。反过来,这可能会导致零售额下降和我们的特许权使用费收入减少。
现在,回到我们季度的结果。第一季度特许权使用费收入的整体下降部分被我们在中国的新设计服务协议的收入所抵消。该协议继续证明我们的产品开发能力的价值。此外,从积极的方面来看,我们继续看到我们的重组努力对本季度的运营支出产生了有利影响。与去年同期相比,我们持续的SG&A费用在第一季度下降了12%,而我们的调整后EBITDA增长了14%。
本季度的利息总支出为220万美元,而去年为170万美元。这一增长主要是由于我们的债务水平增加,以及与我们的新定期贷款相关的非现金利息费用增加。同样,这不是所有现金利益。我们的利息费用包括160万美元的现金利息,加上600,000美元的递延融资成本摊销的非现金费用。
我们的所得税费用还包括非现金部分。我们在美国和欧洲的季度产生了净经营亏损,由于之前确定的估值准备金,我们未在损益表中确认这些NOL的好处。结果是我们的收益表中反映了非现金税费用,本季度共计300,000美元。本季度的现金税也为30万美元。
我们本季度的营业利润为600,000美元,而去年第一季度的营业亏损为20万美元。剔除一次性和非现金项目,本季度我们调整后的EBITDA为120万美元,比2019财年第一季度的100万美元增长了14%。这一改善主要是由于SG&A较低以及有机增长的有机增长。我们的持牌人。
Now, let's review liquidity. We ended the quarter with $1.7 million of cash on hand. Our long-term debt totaled $54.8 million net of debt issuance cost, $1.4 million of this obligation is current. One of our lenders who has issued stock warrants when we refinanced our credit facility back in August 2008 exercised their warrants in the first quarter. This resulted in $600,000 of cash proceeds.
Now, let's turn to guidance. As Henry noted, we are revising our guidance for fiscal 2020, which for us will end on February 1, 2020. We've changed our revenue expectations for the balance of the year, taking into account the continued uncertainty surrounding Brexit and the potential impact of higher tariffs going forward. We've also taken steps to further reduce our SG&A in the upcoming quarters, compared to our previous expectations.
We now anticipate revenues to range from $24.5 million to $26.5 million, SG&A to range from $14 million to $15 million and adjusted EBITDA to range from $10.5 million to $11.5 million. This guidance indicates revenue growth of up to 8% for the full year and EBITDA growth ranging from 7% to 17%.
As you probably know, NASDAQ requires our share price to be over $1. Our shares haven't traded over a $1 recently and we've now passed the time frame that we had for us to regain compliance with this bid price rule. There's been some activity lately in this regard.
Our shareholders approved last week a reverse stock split that our Board of Directors can implement, if necessary, to achieve a $1 stock price and remain on NASDAQ. But our one-year compliance window expired before that could happen and NASDAQ advises on June 5 that our stock would be de-listed unless we appeal that decision.
We did file an appeal and expect to present our plan to regain compliance with NASDAQ's appeals panel. Because we filed an appeal, NASDAQ will defer any de-listing action until the hearings panel hears our case that makes a decision. You'll find additional details regarding the requirements in our 10-Q that was filed this afternoon.
Now, I'll turn the call back to Henry to add more color regarding our results.
现在,让我们回顾一下流动性。我们手头有170万美元的现金结束了本季度。我们的长期债务总额为5480万美元,扣除债务发行成本,此义务的140万美元是当前的。当我们于2008年8月再次对我们的信贷融资进行再融资时,我们的一家贷款机构已发行股票认股权证,在第一季度行使了认股权证。这导致600,000美元的现金收益。
现在,让我们转向指导。正如亨利指出的那样,我们正在修订我们对2020财年的指导,这对我们来说将于2020年2月1日结束。考虑到英国退欧的持续不确定性和潜在影响,我们已经改变了对年度余额的收入预期。未来更高的关税与我们之前的预期相比,我们还采取措施在未来几个季度进一步降低我们的SG&A。
我们现在预计收入将从2450万美元增加到2650万美元,SG&A的范围从1400万美元到1500万美元不等,调整后的EBITDA从1050万美元到1150万美元不等。该指引显示全年收入增长高达8%,EBITDA增长率介于7%至17%之间。
您可能知道,纳斯达克要求我们的股价超过1美元。我们的股票近期交易价格不超过1美元,我们现在已经超过了我们恢复遵守此买入价规则的时间框架。最近在这方面有一些活动。
我们的股东上周批准了反向股票分割,我们的董事会可以在必要时实施,以实现1美元的股票价格,并留在纳斯达克。但是我们的一年合规窗口在此之前就已经过期,纳斯达克在6月5日建议除非我们对该决定提出上诉,否则我们的股票将被除名。
我们确实提出了上诉,并希望提出重新遵守纳斯达克上诉委员会的计划。因为我们提出了上诉,纳斯达克将推迟任何除名行动,直到听证小组听取我们作出决定的案件为止。您将在今天下午提交的10-Q中找到有关要求的更多详细信息。
现在,我将把电话转回亨利,为我们的结果添加更多颜色。
Henry Stupp
Thank you, Steve. I'll now provide some highlights on our core brands for the first quarter of 2020. Starting with the Hi-Tec portfolio, which comprised 50% of our total revenue for the period. The Hi-Tec brand portfolio, which includes Hi-Tec, Magnum, Interceptor and 50 Peaks achieved revenues of $2.5 million for the quarter, down only slightly from $2.6 million in the prior year.
Although, revenues in Europe for the quarter were impacted by the economic uncertainty related to Brexit, we're today marketing an expanded range of apparel, footwear and accessories sold by department stores and major sporting goods and specialty retailers globally. Outside of Europe, distribution of Hi-Tec branded footwear, apparel and accessories in Latin America and Asia are in the early stages, but growing.
We look forward to exploring category expansion opportunities as we scale the brands in these regions. Through our licensees' efforts, we've recently expanded our footwear in Asia with major distribution partners in China and South Korea. And we will continue to expand the Hi-Tec portfolio in Asia, Latin American, and India in the coming months.
We're also seeing positive results with Magnum branded footwear and we added new product categories, such as apparel and accessories to expand our product assortment. Magnum is one of the world's fastest growing military, technical and service industry brands. We will continue to increase awareness for Magnum for marketing activations and new licenses in the coming months.
Our exclusive distribution agreement with Walmart North America continues to drive success for Interceptor and here too category expansion will be key to growth. As I noted last quarter, we are in discussions to expand the Interceptor globally in footwear, apparel and accessories in early fiscal 2021.
And now, I'll turn to the Cherokee brand, where sales of $1.5 million were down approximately $0.6 million year-over-year, largely due to non-renewal or expiration of legacy partners, along with our transition from direct-to-retail to a wholesale licensing model.
As legacy relationships are replaced and business models shift, we know that a sustainable growth plan exists for the Cherokee brand domestically. Nevertheless, this will take time and we, along with our best-in-class licensees, are committed to making this happen.
Today, we offer a wide assortment of Cherokee men's, women's and children's products across multiple channels, retailers and licensees. Our licensee's expertise and commitment to the Cherokee brand will be key to our growth strategy and the efforts are progressing, particularly for Cherokee Kids and School Uniforms. As we expand distribution to new channels and with new partners and leverage our new Apex platform, we look forward to realizing positive comps for the Cherokee brand in the future.
On the global front, we continue to identify additional licensees to build upon our European base. We continue to pursue multi-category, multi-channel approach for our global retail partnerships, including new licensee partnerships in Japan, China and continued expansion in Europe. Partnering with best-in-class licensees will remain a key aspect of our growth strategy.
谢谢,史蒂夫。我现在将在2020年第一季度为我们的核心品牌提供一些亮点。从Hi-Tec产品组合开始,该产品组合占该期间总收入的50%。 Hi-Tec品牌组合包括Hi-Tec,Magnum,Interceptor和50 Peaks,本季度实现收入250万美元,仅略低于去年的260万美元。
虽然本季度欧洲的收入受到与英国脱欧相关的经济不确定性的影响,但我们今天在全球范围内销售由百货商店和主要体育用品以及专业零售商销售的各种服装,鞋类和配件。在欧洲以外,拉丁美洲和亚洲的Hi-Tec品牌鞋类,服装和配饰的分销处于早期阶段,但仍在增长。
我们期待在这些地区扩展品牌时探索类别扩张机会。通过我们的许可证持有者的努力,我们最近在中国和韩国的主要分销合作伙伴扩展了我们在亚洲的鞋类。我们将在未来几个月内继续扩展亚洲,拉丁美洲和印度的Hi-Tec产品组合。
我们也看到了Magnum品牌鞋类的积极成果,我们增加了新的产品类别,如服装和配饰,以扩大我们的产品种类。 Magnum是世界上发展最快的军事,技术和服务行业品牌之一。我们将在未来几个月继续提高Magnum对营销活动和新许可证的认识。
我们与沃尔玛北美公司的独家经销协议继续推动Interceptor的成功,此类产品扩张也将成为增长的关键。正如我在上个季度所指出的那样,我们正在讨论在2021年初的全球范围内扩大鞋类,服装和配饰的Interceptor。
现在,我将转向切诺基品牌,其150万美元的销售额同比下降约60万美元,主要原因是传统合作伙伴的续订或到期,以及我们从直接到零售的过渡批发许可模式。
随着传统关系的取代和商业模式的转变,我们知道切诺基品牌在国内存在可持续发展计划。然而,这需要时间,我们和我们一流的许可证持有者一起致力于实现这一目标。
今天,我们提供各种各样的切诺基男士,女士和儿童产品,涉及多个渠道,零售商和被许可人。我们的被许可人对切诺基品牌的专业知识和承诺将是我们发展战略的关键,并且正在努力取得进展,特别是切诺基儿童和校服。随着我们将分销扩展到新渠道并与新合作伙伴合作并利用我们的新Apex平台,我们期待在未来实现Cherokee品牌的积极合作。
在全球方面,我们继续确定在我们的欧洲基础上建立的其他许可证持有者。我们继续为我们的全球零售合作伙伴提供多类别,多渠道的方法,包括在日本,中国的新许可证合作伙伴关系以及欧洲的持续扩张。与一流的许可证持有者合作仍将是我们发展战略的一个关键方面。
Our sales and marketing efforts are gaining traction for our portfolio brands, including new licenses and distribution for Everyday California. Recently, we have signed a long-term license with Chedraui in Mexico and our domestic licensees secured placement with key retailers. We're also in discussions to secure new licensees for both Liz Lange and Sideout.
And lastly, I'll review our Tony Hawk brand, which now includes our street-wear lifestyle brand Tony Hawk Signature. With the transition from our legacy direct-to-retail model to wholesale licensing base, we expect positive future results over the coming quarters. While relatively new, our core wholesale licensees are focused on building brand momentum securing fair placement with the leading retailers in Europe, Asia, Australia, and of course, North America.
The actions we've taken to stabilize our financial position and refresh our business model have put us in a solid position to expand reach for the brands we own, the brands we create, and the brands we elevate for others as well into the future.
Our transition to Apex Global Brands in the coming weeks represents natural evolution for our company. We're entering this new chapter with an operational model that is stronger and a business model that is more balanced and diversified than ever before.
Thank you again for your time. We'll now open up the call to your questions. Operator?
我们的销售和营销工作正在为我们的投资组合品牌带来牵引力,包括新日常加利福尼亚州的许可和分销。最近,我们与墨西哥的Chedraui签订了长期许可证,我们的国内许可证持有者与主要零售商签订了合同。我们还在讨论为Liz Lange和Sideout确保新的被许可人。
最后,我将回顾我们的Tony Hawk品牌,现在包括我们的街头服装生活品牌Tony Hawk Signature。随着从我们的传统直接零售模式向批发许可基础的过渡,我们预计未来几个季度将会有积极的未来结果。虽然相对较新,但我们的核心批发许可证持有者致力于建立品牌动力,确保与欧洲,亚洲,澳大利亚,当然还有北美的主要零售商合作。
我们为稳定财务状况和更新业务模式而采取的行动使我们处于稳固的地位,可以扩大我们拥有的品牌,我们创造的品牌以及我们为其他人以及未来提升的品牌。
在未来几周内,我们向Apex Global Brands的过渡代表了我们公司的自然发展。我们正在进入这一新篇章,其运营模式更加强大,商业模式比以往更加平衡和多样化。
再次感谢您的时间。我们现在打开你的问题的电话。操作?
问答环节
At this time, we will be conducting a question-and-answer session. [Operator Instructions] Our first question comes from the line of Eric Beder with SCC Research. Please proceed with your question.
在这个时候,我们将进行问答环节。 [操作员说明]我们的第一个问题来自Eric Beder与SCC Research的合作。 请继续你的问题。
Eric Beder
Good afternoon.
下午好。
Henry Stupp
Hi, Eric.
嗨,埃里克。
Eric Beder
Hi. Could you talk a little bit about the expansion online? What are you seeing internationally and how are you going to leverage that going forward?
你好。 你能谈一谈网上扩张吗? 你在国际上看到了什么?你将如何利用这一点?
Henry Stupp
So, all of our major retailers have an online presence. So, whether it's through Urban Outfitters, Foot Locker in Europe or Amazon and Walmart domestically, we have our brand online and in stores. So today, we're looking at as one channel of retail. In the past, people called it omni-channel, but today, we're viewing as retail with everybody having an online component.
因此,我们所有的主要零售商都有在线业务。 因此,无论是通过Urban Outfitters,欧洲Foot Locker还是亚马逊和沃尔玛在国内,我们的品牌都在网上和商店中。 所以今天,我们将其视为一个零售渠道。 在过去,人们称之为全渠道,但今天,我们将每个人都拥有在线组件视为零售。
Eric Beder
And when you look at the brands, you've taken a pretty conservative track in terms of Brexit and tariffs. Where do you think, looking kind of years ago, which brand has the biggest potential here going forward? Which brand should we be thinking about in terms of that?
当你看到这些品牌时,你在英国退欧和关税方面采取了相当保守的做法。 您认为,从多年前看,哪个品牌在这方面具有最大潜力? 我们应该考虑哪个品牌?
Henry Stupp
In the near-term, we say both Hi-Tec and Magnum as part of the, what we refer to, as the Hi-Tec portfolio has the fastest growth with the introduction of both new categories and new markets.
在短期内,我们将Hi-Tec和Magnum视为我们所指的一部分,因为Hi-Tec产品组合通过引入新类别和新市场而增长最快。
Eric Beder
And final question, when we look at the expansion prospects here with some of the brands you mentioned, Everyday California, Sideout and some of the Liz Lange, are those – I would assume given where you are at those and some of the newer ones that we should start thinking about those as more 2020 potential revenue events, is that how should we focus them or can they have a chance to do something here in 2019?
最后一个问题,当我们看到你所提到的一些品牌,Everyday California,Sideout和一些Liz Lange的扩张前景时,我会假设你在那些地方和一些新的那些 我们应该开始考虑将这些作为更多的2020潜在收入事件,我们应该如何关注它们,还是他们有机会在2019年做一些事情?
Henry Stupp
With Everyday California, we will see revenue starting in Q2 this year and both Liz Lange and Sideout we're looking more at fiscal 2021 budget. And just to get back to other question. in terms of near-term, Eric, in addition to the Hi-Tec portfolio, we believe the design services will expand as we move into the future. We've already got a significant partnership in China and we're talking to other potential parties in both Europe and domestically.
So, we think that's an important part of our future business. We have the staff and the resources to manage it without a significant SG&A buildup, so we are looking at expanding that and we have been approached by numerous parties to tap into it. So, we've had some good success so far and we think it's a good opportunity for us to balance out our revenue streams.
在Everyday California,我们将看到今年第二季度的收入,Liz Lange和Sideout我们都在考虑2021财年的预算。 只是回到其他问题。 就近期而言,除了Hi-Tec产品组合之外,我们相信随着我们迈向未来,设计服务将会扩展。 我们已经在中国建立了重要的合作伙伴关系,我们正在与欧洲和国内的其他潜在政党进行对话。
因此,我们认为这是我们未来业务的重要组成部分。 我们拥有管理员工和资源而没有重大的SG&A积累,因此我们正在寻求扩大这一目标,并且我们已经接触过众多参与者。 所以,到目前为止,我们取得了一些成功,我们认为这是一个平衡收入来源的好机会。
Eric Beder
When you look at the China opportunity here, where do you think are you pretty much would you stay in the first one or two – first innings of that and the potential to expand that across? Is it relatively seamless to be able to expand that to, to your point, Europe or other places in Asia?
当你看到这里的中国机会时,你认为你在哪里,你会在第一或第二局 - 第一局以及扩大其中的潜力? 是否能够将其扩展到欧洲或亚洲其他地方?
Henry Stupp
Yes, we've already been approached by affiliates of the existing partner in China, particularly India and Japan. We'll see how that progresses. Secondly, we've established relationships with some European retailers through our existing brands who are looking to tap into a service model. So, it's a combination of both.
是的,我们已经与中国现有合作伙伴(尤其是印度和日本)的关联公司进行了接洽。 我们将看到这种进展。 其次,我们通过现有品牌与一些欧洲零售商建立了关系,这些品牌希望利用服务模式。 所以,它是两者的结合。
Eric Beder
Great. Alright, guys. Congrats on the growth year-over-year and look forward to next quarter.
非常好。 好吧,伙计们。 祝贺与去年同期相比增长,并期待下一季度的发展。
Henry Stupp
Thank you, Eric.
谢谢你,埃里克。
会议主持员
Ladies and gentlemen, we have reached the end of the question-and-answer session. And this does conclude today's conference. You may disconnect your lines at this time. Thank you for your participation.
女士们,先生们,我们已经到了问答环节。 这确实结束了今天的会议。 您可以在此时断开线路。 感谢您的参与。
相关问题
互联网券商的港股、美股开户教程
如果您对美股 或者 港股也感兴趣, 或者想要了解如何开户, 可以加我wechat: xiaobei006006, 同时也可以拉您进美股交流群哦。
最后的最后 祝大家都有一个美好的投资生活哦。
大家也可以关注【美股指南】公众号, 即可获得《小白投资美股指南(雪球「岛」系列)》电子书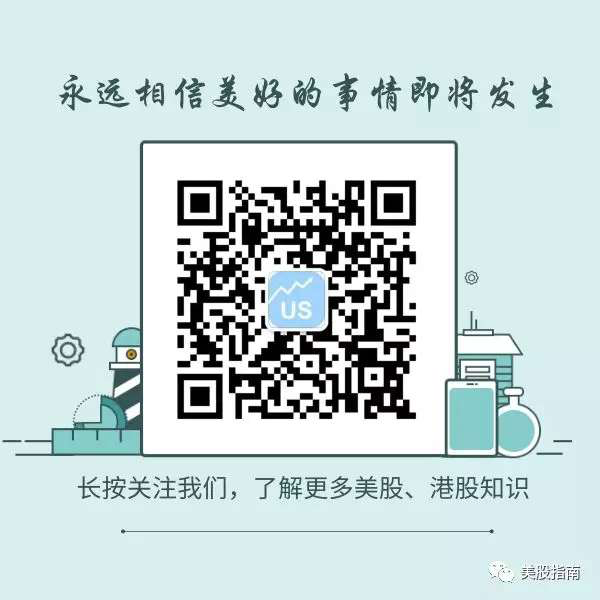 ---
写在最后
---
暂无回复。